On this page you'll find beautiful playing cards, card boxes, card travel sets, tallies, card holders, shufflers, trump indicators, trophies, card tables and table cloths, and some poker supplies. Click on images as well as links!
Because cards
I love these 'vintage' cards and other lovely offerings from Ellusionist
Black cards for the collector
Springbok Bridge Gift Sets have everything you need, including two decks of top quality Bridge cards, with matching tallies and a large score pad. From Playing Cards and More -

Official Source
ACBL Playing Cards
Baron Barclay Bridge Supplies
Bridge Cards can be found at the Bridge Source, offering a variety of top quality playing cards designed specicfically for bridge.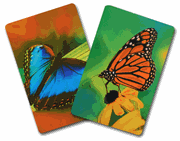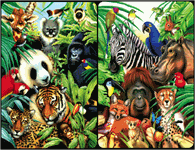 A variety of playing cards can be found on Playing Cards and More including Gem Collection, Congress, Sunsout Cards, Bicycle Cartamundi plastic cards.

Green cards (above)
Eco-friendly and recyclable!
Bridge Sets and art cards from Richmond Bridge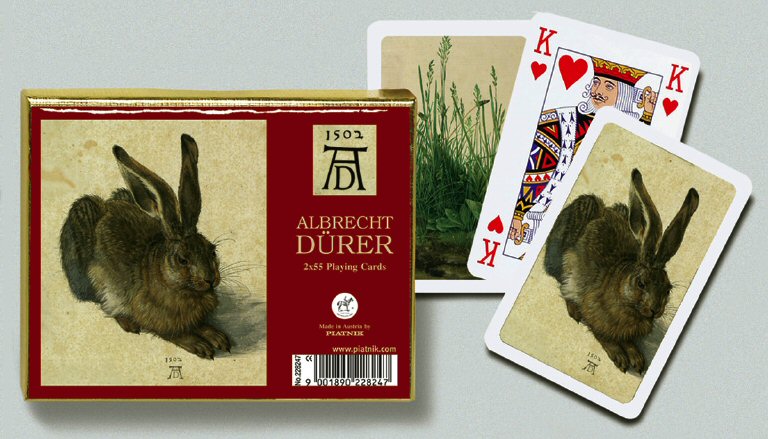 Luxury Gilt-edged Playing Cards
Large Print Playing Cards and Bridge Sets
Arrr Be Darr Matey
Pirate Playing Cards - cheap enough to buy a bunch!
---
Many other shops feature beautiful decorative cards and gift sets including:
London Bridge Centre Historical and vintage cards
Canadian Bridge Supplies Playing Cards and Bridge Sets
Playing Cards Only : Features playing cards and card games that are designed to be informative and entertaining for all ages.
---
Above - Clown cards, plastic coated cards, Lots of different ideas for Custom Imprinted Playing Cards : Monogrammatiks
Trump Indicators
For the Collector - a fascinating bridge collectable.
Some beautiful collectable trump indicators can be found on Peter Dunn's website
Trophies

Card Shufflers

Beautiful Thuya Wood
Bid Box Set
A stunning set of four Thuya wood boxes gorgeously packaged in a fabric lined presentation box, complete with Jannersten best-quality 100% plastic bidding cards.

Card Boxes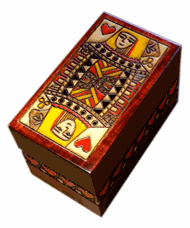 Deluxe Wooden Playing Card Box from Playing Cards and More
Brass Inlay Wooden Card Box
More beautiful card boxes from The Bridge Shop in Australia.
Elegant Wood, leather and silk bridge sets from Richmond Bridge.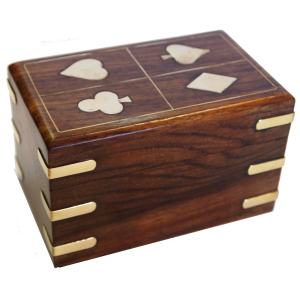 Wooden Bridge Set Storage Box. A perfect gift for all Bridge players, including yourself! From Playing Cards and more.
Luxury hinged box in Burl Veneer.
CERAMIC
Bridge Cloths & Card Table Covers
Personalized!
Luxury bridge cloths with braided border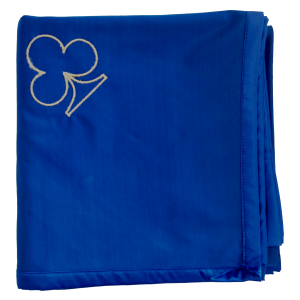 Also you'll find a large variety of bridge cloths at The Bridge Shop in Australia.
Lots of lovely Table Covers from Baron Barclay Bridge Supply - square or round
New! Chair Back Covers
Beautiful Card Table Covers from SevenNoTrump.com
Flash Cards
Skill in bridge bidding requires substantial memorization of rules and definitions.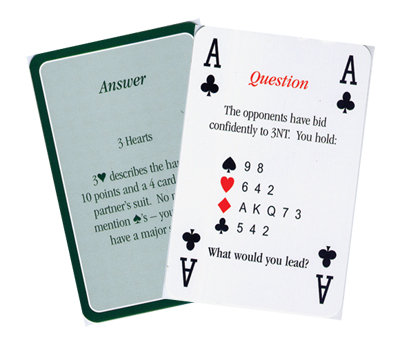 Bridge Quiz Challenge - Two decks of regular playing cards BUT with questions on the faces of each card and the answers on the reverse. A perfect learning tool for the novice and social players.
Beat the Champions - A new dimension in home based bridge, bringing you the thrills and spills of competitive bridge from the comfort of your own home.
Travel Sets
Perfect for the boat or camper
Tallies
Ya can't have a bridge party
without 'em! Tallies for teams, pairs and individual games help people keep their scores and know where to sit next.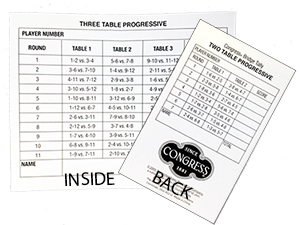 Tallies from the Bridge Source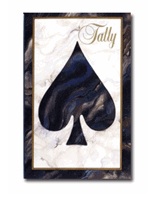 Assorted Tallies from 7NT
Assorted Tallies from Tally Ho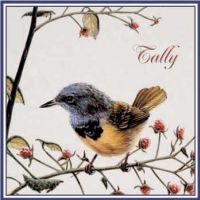 Some beautiful Tallies on
Dee's Bridge Tallies
Card Holders
When your hands are full
Round card holders. Great for kids and their little hands. Think: Stocking Stuffer!
Beautiful
Bridge Tables
3 in 1 table from Baron Barclay
Lifetime Folding Card Table
with 37 inch square molded top
Lots of tables and cloths on Richmond Bridge (UK) including this Club Table