GIFTS FOR CARD PLAYERS
We've done the surfing for ya!
Gifts for Card Players is a curated shopping page designed to help you find links to stationery, card accessories, card novelties and gifts, card supplies, party supplies, and card motif wearables.
OWNED AND OPERATED BY GOODWIN CREATIVE LTD
greatbridgelinks@gmail.com | Vancouver, BC, Canada
ADVERTISINGWITH US
We offer an excellent opportunity to reach a "target" market of card players, card developers, card journalists, and visitors interested in card games & supplies, board game review and all things to do with the game of bridge.
We are currently enjoying over 16,000 hits a day. We are in the top fold of Google, and number one on many searches including bridge links, bridge tournaments, and bridge software.
OWNED AND OPERATED BY GOODWIN CREATIVE LTD
greatbridgelinks@gmail.com | Vancouver, BC, Canada
BANNER AD RATES
Visual ads and banners on Great Bridge Links must be for products or services that have substantial value for card players – products, services, events and/or travel.
All funds USD, PAID IN ADVANCE
Page One
$600 per 6 months
Inner Pages
$100 per month, purchased 6 months or 12 months in advance.
This could include banner creation if desired.
Banner Size : 350 X 150 pixels
ARTICLE LINKS
Great Bridge Links, and  Gifts & Supplies for Card Players, no longer offer sponsor links in articles except for special situations. See 'sponsorship' below.
FREE LINK EXCHANGE: BRIDGE CONTENT ONLY
We are happy to exchange links. However, if your link is not bridge or card related it's likely we won't add it to our site. Please use the Add My Site form found in the footer of every page.
All links start on our New Links page and then move into their appropriate category within 6 months.
Questions? Send e-mail to Jude Goodwin or use the form in the footer of this page.
TEXT LINKS
Great Bridge Links and Gifts for Card Players are currently accepting the placement of  Text Links. Please contact Jude Goodwin for more information
Websites for Text Link consideration are:
Text link on Great Bridge Links home page
$1000 year | $600 per six months
Text link on Gifts for Card Players home page
$1000 year | $600 per six months
SPONSORSHIP
Great Bridge Links and Gifts for Card Players are thrilled to work with organizations and companies on a sponsorship basis.
Platinum – $5000 usd
Gold – $3000 usd
Silver – $1000 usd
Each sponsorship enjoys links in articles, priority links, logo display and more. Email us today for more information.
---
ABOUT US
Gifts for Card Players is a shopping portal page which was originally a part of the Great Bridge Links bridge portal. It has been online 9 years!
Starting with the holiday season in 2006, the web page is now a stand-alone destination for shoppers looking for items related to cards, bridge, and giftware. Cross links are in place in order to maintain the great standing on google and other search engines.
The site acts as a shopping portal. We have surfed the web looking for interesting, unique, and useful gift items. We put their pictures and links to the merchant site on these pages. We do not sell the products. We simply link to them. If more than one merchant carries a certain product, we give preference to advertisers and sponsors.
We also have an online magazine section where we feature articles about games and game-related products.
Jude Goodwin, author of the bridge cartoon book Go Ahead, Laugh, has been involved with bridge websites since 1995. She is currently webmaster  of Great Bridge Links, Sea to Sky Review, Vince Oddy Bridge Books, Michael S Lawrence, and many more.
Jude lives in BC, Canada. She is co-owner of the company Goodwin Creative Ltd with partner (and daughter) Sky Goodwin.
www.greatbridgelinks.com
www.goodwincreative.ca
www.giftsforcardplayers.com
PAGE RANK : 5
Google Placings : number 1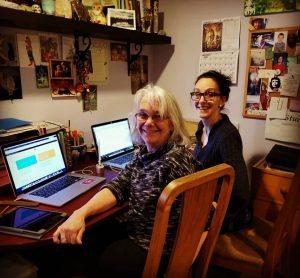 Gifts for Card Players is maintained by the mother-daughter partnership Jude Goodwin and Sky Goodwin. Some of you might know Jude as the author of Teach Me To Play and the cartoonist behind the Table Talk cartoons or as the owner and manager of the internet's popular Great Bridge Links. Jude's company – Goodwin Studios – has developed both Great Bridge Links and Gifts & Supplies for Card Players, both popular bridge portals.
Product Links are Free! If you'd like to submit a link to your favourite card-related product, please use the form at the bottom of every page. Or send it to Jude Goodwin  greatbridgelinks@gmail.com