Books and Book Shops
THE SHOPS
Many of these shops have both bridge software and books.
Baron Barclay Bridge (USA)
Bridge World Book Store (USA)
Canadian Bridge Supplies (Canada)
London Bridge Centre (UK)
Vince Oddy Bridge Supplies (Canada) – also sells used books.
Jannersten Forlag (Sweden)
Master Point Press Canadian Publisher
La Chouette (Italy)
Bridge en Boekenshop (Netherlands)
The Bridge Shop (Australia)
Author Book Shops
Mike Lawrence Author Site
Larry Cohen's Book Shop Author Site
Bridge Today Book Shop Granovetter, Pamela and Matthew Author Site
Audrey Grant – One of the world's finest bridge teachers.
Marty Bergen – Author of Points Schmoints.
Eddie Kantar  – Professional bridge player, writer, teacher and member of the Bridge Hall of Fame.
Ron Klinger – World class bridge writer and professional. Lots offered on this author site.
Barbara Seagram – Author and teacher.
Used Books
Find quality used books on Vince Oddy Bridge Supplies
E-Books
Electronic book readers are becoming more popular. They allow readers to download many books into one cool little handheld to be read anywhere. You can make the text big, for easier reading, even first thing in the morning!
E-Book Stores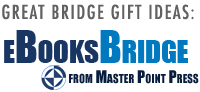 Masterpoint Press has a great bridge e-book store. Click here to visit ebooksbridge.com
Lybrary.com has an excellent selection of bridge books in e-book format. Click Here
BRIDGE HUMOUR
Because it's a game, after all
Bridge Cartoons by Jude Goodwin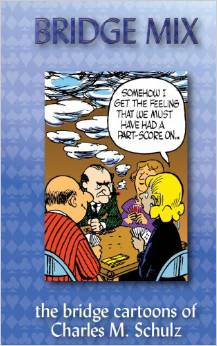 By Charles M. Schulz!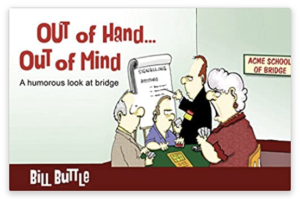 By Bill Buttle