Stationery and Supplies
If it's made of paper or can be found on a desk, you'll find it here.
On this page you'll find memo pads, note pads, flash cards, bridge calendars, bridge greeting cards, many different kinds of bridge pens and pencils, photo albums, photo frames, bridge motif wrapping paper, gift bags, magnets, ribbon, journals, digital papers and scrapbooking supplies for card players. You'll also find, on our menu, a page of Bridge Essentials that lists bridge shops that will sell you bridge essentials such as score sheets, convention cards, travellers and more.
PENS!
If you don't have a good pen, how will you score up that doubled grand slam? Many shops have a lovely assortment of card motif pens. Clicking on the images below will take you to pages with a good selection.
A nicely weighted chunky pen.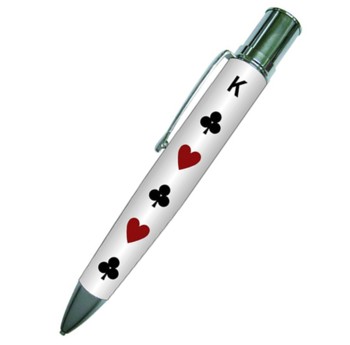 Tell the world you love bridge with these fun pens.

This one's erasable

Refillable enamel-barrel l'plume pens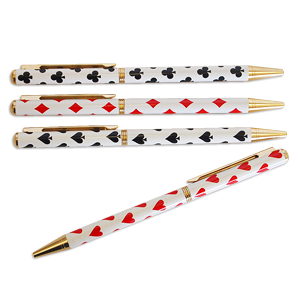 Alice in Wonderland inspired design pen set.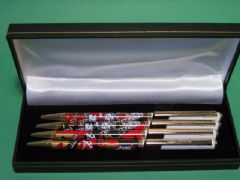 Oh, and maybe you want to wear the pen around your neck?
Check out this handcrafted pen with rose gold and titanium – beautiful!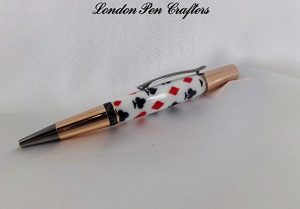 PENCILS TOO …
Mechanical pencils, Pop-a-Point pencils and the good old-fashioned kind too.
Read story : These pencils can make you sharper
Set of 4 Simon Lucas pencils.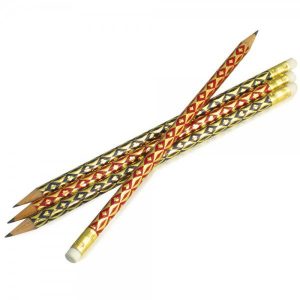 A dozen card symbols pencils.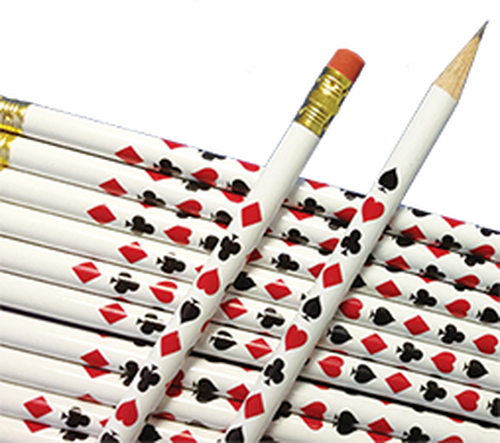 Black (all the way through, even when sharpened!) with a black eraser.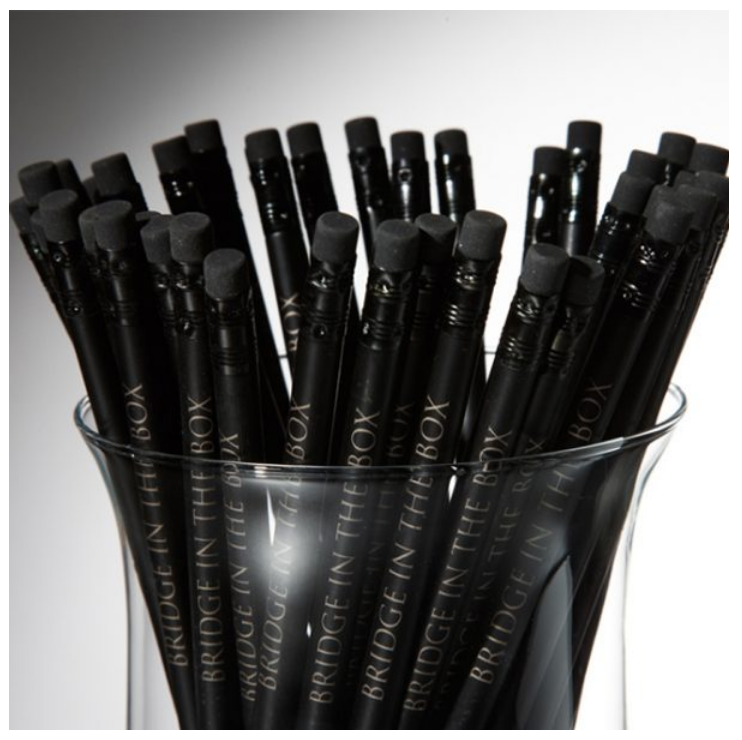 Proclaim your love for bridge with your pencils, too.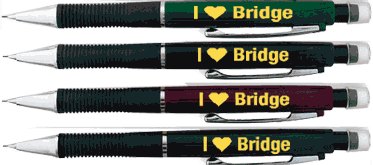 These pencils double as bookmarks

You can have stunning sterling silver pencils, too
RUBBERS
(we're talking about erasers of course)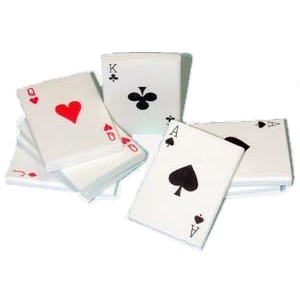 Embroidered, Vinyl or Enameled
"STICKERS" and "WINNERS PINS"
for your next tournament
from SevenNoTrump.com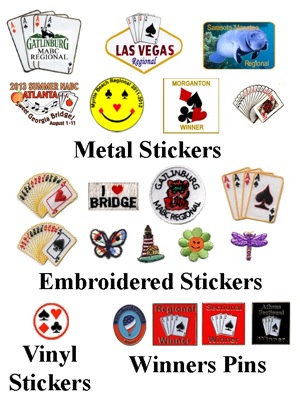 TALLIES
Ya can't have a bridge party
without 'em! Tallies for teams, pairs and individual games help people keep their scores and know where to sit next.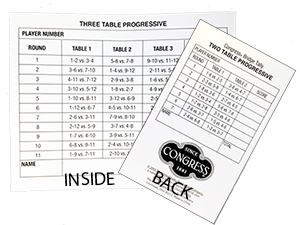 Tally cards suitable for 2 or 3 table progressive bridge from Richmond Bridge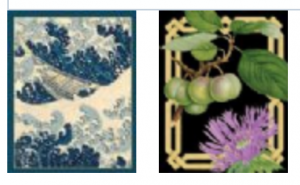 Tallies from the Bridge Source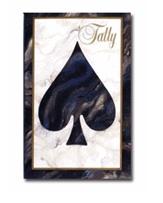 Assorted Tallies from 7NT
Assorted Tallies from Tally Ho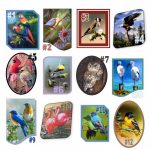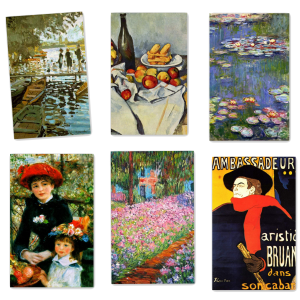 Some beautiful Tallies on
Dee's Bridge Tallies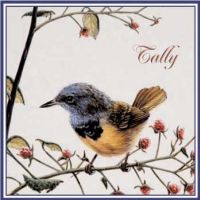 Duplicate Kit for your home game
This kit is everything you need to play Duplicate Bridge at home for up to 16 players. From Baron Barclay Bridge Supplies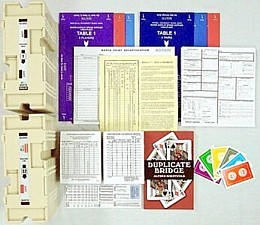 All-in-one Bridge Set
Bridge Card Game Gift Box Set with Authentic USA Made Bicycle Playing Cards, Four Card Holders and Score Pad with Game Instructions – order through Amazon.
DUPLICATE BRIDGE DIARIES AND LOG BOOKS
Read story: The Bridge Diary – or – how I knew what you meant by that bid.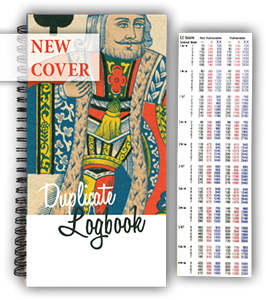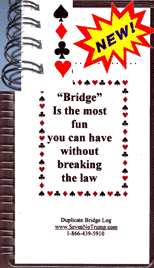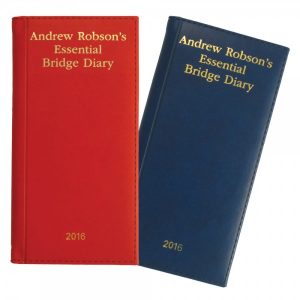 BIDDING MATS
Bid with confidence using these informational and practical place mats for beginners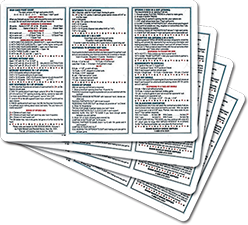 The Times, Bridge Desk Calendar 2020 Entertainment Desk Calendars Page A Day
MEMOS & NOTES
Memo cards with playing cards patterns
Slant Pad
CONVENTION CARD HOLDERS
These durable fabric convention card holders are as attractive as they are useful. Carries like a clutch.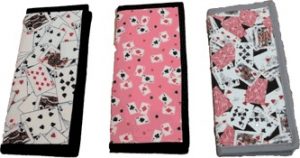 Convention card holder with pencil loop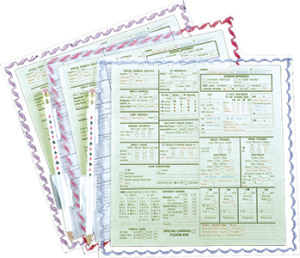 10 sturdy vinyl pockets to hold 10 "Partners" convention card information, and a pocket to hold your current duplicate score card.
FLASH CARDS
Skill in bridge bidding requires substantial memorization of rules and definitions.
You can get a bundle of these from Baron Barclay
Or challenge yourself with quiz cards