Shopping For Vintage NFL Playing Card Sets
As the holiday season approaches, the stress and anxiety of the gift-giving public grows to a level equal to what's felt by the person holding the Queen of Spades among their cards as a hand of Hearts nears its culmination.
Finding a unique gift for everyone is forever a challenge. Let's suppose there's a family member or a close acquaintance who's not only an avid card player but who is also a staunch supporter of the NFL, to the point where they're likely to be found prior to each Sunday of season placing a wager or two at their favorite NFL betting sites.
The logical choice of gift to check this loved one off the list is naturally going to be a deck of NFL playing cards. And sure, we know you've heard that one a million times before. Buying a deck of NFL logo playing cards, or even that of the person's favorite NFL team, is hardly an original idea. In fact, it can scream didn't know what to get you but stumbled across these playing cards while perusing the dollar store.
Don't go there. Don't be that kind of gift giver. There are ways to give someone a deck of NFL cards as a Christmas present and leave them giddy with delight. Best of all, when this mission is completed, that holiday gleam in their eyes that you've provided them won't break your bank account or blow your holiday budget, even if you're part of one of those Secret Santa situations with a firm price limit.
We're talking vintage here, and a quick search of any internet selling site such as Amazon or eBay will reveal that there are some truly original finds when it comes to vintage NFL playing cards.
NFL Quarterback Legends Playing Cards
Issued in 1991, each card in the deck depicts one of the all-time greatest quarterbacks in NFL history. Some of those who made a living under center in the NFL who are front and center in this set are Bill Wade, Otto Graham, Roger Staubach, Johnny Unitas, Y.A. Tittle, Warren Moon and Dan Marino.
The sets were sold in tins, and there are tins available featuring many of the greats on the outside, including Marino, Unitas, Tittle and Moon. Best of all, since the issue isn't ultra-vintage and they were relatively mass-produced, sets can usually be found available in abundance at online retail sites for a price range around $5.
1992 Sport Decks NFL Playing Cards
This 54-card set highlighted stars of the NFL's 1992 season and features 17 Hall of Famers. Dallas Cowboys QB Troy Aikman is found on the Ace of Spades, while teammate Emmitt Smith is the King of Clubs.
The Ace of Diamonds features Buffalo Bills QB Jim Kelly. San Francisco 49ers wide receiver Jerry Rice is the Queen of Clubs, while Denver Broncos John Elway can be found on the Queen of Diamonds.
Marino is the Ace of Hearts and New York Giants linebacker Lawrence Taylor adorns the Six of Spades.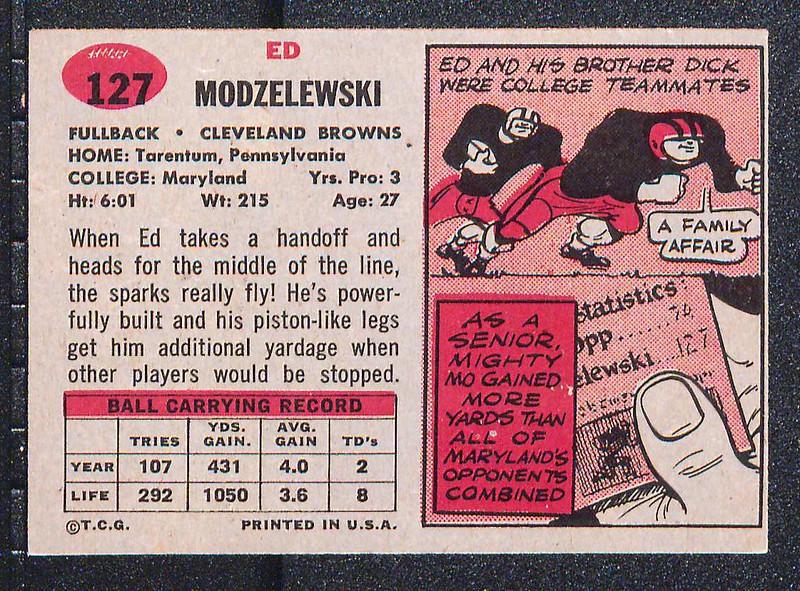 "Ed Modzelewski – Football card back" by Digital Collections at the University of Maryland is licensed under CC BY-NC-ND 2.0
1970 NFL Playing Cards
On the surface, this set might not seem like a unique collectible. Sure, it's 50 years old, so there's that. The two-deck set includes the 13 NFC teams in one version and the 13 AFC squads on the other and that's what makes it an original.
This was the first season of play following the completion of the NFL-AFL merger. The 10 former AFL teams are grouped in the AFC with the Pittsburgh Steelers, Baltimore Colts and Cleveland Browns, all from the established NFL.
The Colts are one of many teams depicted in the set that have undergone either a location or complete franchise change since that era. There's also the Houston Oilers, Oakland Raiders, St. Louis Cardinals, San Diego Chargers and the current Washington Football Team who've either been relocated or renamed.
1963 Stancraft Football Playing Cards
This is the gold standard when it comes to vintage NFL playing cards. Acquire a set of these to give as a gift and you'll be the hit of the holidays.
The 54-card deck depicts NFL logos on all four Aces and both Jokers. The remaining cards in the set feature the all-time greats of the NFL up to the 1963 season.
Current vintage stars of that era such as Jim Taylor, Mike Ditka, Paul Hornung and Jim Brown are included. There's also original and early-era NFLers like George Halas, Curly Lambeau, Don Hutson and Jim Thorpe, as well as later legends like Chuck Bednarik, Norm Van Brocklin, Bobby Layne and Elroy (Crazy Legs) Hirsch.
Image credit for top image: "Ray Krouse – Football card front" by Digital Collections at the University of Maryland is licensed under CC BY-NC-ND 2.0