Inside the Magic Shop
By Alex J. Coyne © 2017 Gifts for Card Players

Ever since the movie Now You See Me 2, we've been wondering just what goes on behind the scenes of a real-life magic shop. We tracked down the owners of the largest magic supply store of its kind in Africa to find out more.
"The Magic Shop was founded in 1981, just after the College of Magic started." says Mike. At first, he says the Shop only catered to students of the College. "Soon, the Shop grew and started supplying both magicians and enthusiasts." Now, they've become a big thing and sell more than 1, 000 different illusions, tricks and magic-related items through their website and their walk-in shop located in Cape Town, South Africa.
"We sell over 200 card decks per month," he notes. "The most popular ones are Monarchs, Memento Mori and Black Ghost." You might already know the Monarch deck as the one used for the Now You See Me movies – hell, who knew that would get so many people back into cards? As for their weirdest item, Mike says that they sell incredible neck-crackers, finger-choppers and flame-throwers. "The Dragon's Breath is an insane fire product."
If you've never heard of it, here's a closer demonstration of The Dragon's Breath on YouTube courtesy of performer Gwyn Unusual; what it is turns out to be even weirder – Dragon's Breath powder is made from clubmoss spores (called lycopodium). Finger-choppers and neck-crackers, despite sounding like torture devices, create illusions that do just that.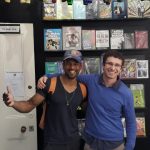 "We meet the most amazing people in our shop – from politicians to an astronaut who spent 180 days in space." says Mike. "Magic is for all types of people and once you develop a love for the art it is hard to shake it. Working at the shop is a fun experience and we are proud to be the largest in Africa."
Still, it turns out that running a magic shop isn't without its share of weird: "A lot of people think they can just buy a magic effect and immediately end up with superpowers." says Mike. "We've had so many odd questions I'm not sure where to start, but 'Do you have the trick where I can fly to the Statue of Liberty?' is one…"
How do you get better at cards? "Simple: Buy some good books, get some good cards and practice, practice, practice." says Mike. "Get a routine consisting of three tricks at more or less five minutes each and practice these: Use this routine during strolling and in restaurants."
The College of Magic
The College of Magic is the only organisation of its kind in the world – a unique place of incredible education where life-skills are nurtured and imagination is set free. Our dedicated staff, our ground breaking curriculum and our underpinning ethos understand that each student is different & that every person has an innate sense of curiosity just waiting to be unlocked. Magic is all about excitement, empowerment and transformation and forms the basis of our innovative approach to education.