Christmas Gifts for Gamblers and Casino Players
Christmas can be both a joyous occasion as well as the most maddening event of all year. The joy is from the Christmas festivities such as large family gatherings that generally have a potluck theme, hot chocolate while tending a crackling fire to drive away the winter cold, caroling in the neighborhood while having apple cider as well as trimming the good ole Christmas tree. The maddening part of Christmas and I'm sure everyone can attest to this, would be Christmas gift shopping.
How does one buy the perfect gift for their special someone or even just for the local postman to represent how much you appreciate their presence in your life (I appreciate my postman delivering the mail regardless of weather: wind, sleet and snow).
This task is even harder when it comes to someone that enjoys a night at the casino. Giving them money seems so insincere even though it might be the gift that they actually would enjoy the most.
Well, since you're a gambler, what would you want for Christmas?
This depends on style. The arrival of high-speed, mobile internet has seen some head online to gamble. While online casinos do reward gamblers with casino bonuses that give out extra money for a deposit, you can't give these as a gift to others.
NOTE: If you're a gambler who fancies playing online then you can learn more by heading to Casino-Professor which is a great resource for all things online casino. They have a variety of different casino bonuses to choose from so you can take your pick from their current selection.
Therefore, in this article, we'll be looking at a variety of physical gifts only that are useful for in-person gambling. As there are many different types of gamblers out there, we've done our best to give you a wide mix of choices.
Fat Cat Tri-Fold Poker Game Table Top
Now isn't this the coolest thing? I saw some pictures of a whole group of friends playing Texas Holdem the other night and they were using one of these! Place it on top of your dining room table and you're good to go! It's pricey – but I can see it being worth the investment.  Buy on Amazon here ->
Deluxe Craps Dice Table
I know for Christmas, the ultimate Christmas gift would be something that relates to the casino; for me it's a regulation size craps table.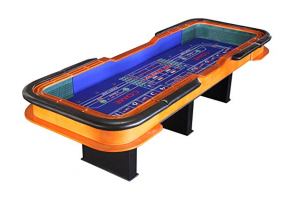 What? Why?
For me having a regulation craps table would allow me the ability to practice my craft as a shooter at the craps table. The whole point of visiting the casino is to take a chance to try to leave with more money that what you had when you arrived. The casino has rules and regulations to try to shade the win percentage in favour of themselves in all manners of games expect craps. The odds don't change. The bet payout remains the same regardless how high or how low you choose to bet. The casino's distinct advantage when it comes to craps is the lack of practice a player would have playing the game. Wouldn't you want to gift the gambler in your life the ability to even the odds with the casino; give him or her the ability to practice for countless hours to hone their skills to try to take down the casino?
The table pictured here is on Amazon – who knew Amazon sold regulation sized craps tables?
Of course, we know not everyone can afford, or fit, a full size craps table. Here are a few more suggestions for what to give your special card lover:
Gold Foil Playing Cards
Why settle for the ordinary when you can have the extraordinary. Everyone has playing cards for a quick game of blackjack or poker; make it a real festival evening of glitz and glamor with gold foiled playing cards. They're definitely a conversation starter! Find them on Amazon here
Card Shuffler
Gift one of these card shufflers under their Christmas tree and they'll thank you during those action packed house games!  Psst – kids love these too. You can find some on our Card Accessories page and while you're there check out the very fine card decks and card boxes.
Acrylic Case for Poker Chips
Our personal favourite. Nothing gets the juices flowing like attending a top notched house game than when the host displays all the goodies. Make your host the talk of the town with an acrylic case for their poker chips. Find on Amazon here.
Card Suit Jewelry
Card players love style, especially in a casino where everyone is looking at them. Your casino loving friend will appreciate any card-themed jewelry and there are so many lovely items – we've got a bunch of them featured on our Jewellry page. Click here.
Other Suggestions
We've run out of room but wanted to leave you with a few more ideas. How about a portable charger for those hours at the table; a lovely watch is one of the best accessories a poker player can have; noise-blocking headphones; RunGoodGear, the brand that has been seen every year on the WSOP Main Event Rail;  anything from NoMercyMaking collection and finally, you can't go wrong with a good book. Here is a good list of the world's most popular Blackjack books.
Good luck with your shopping and have a wonderful holiday.