Yu-Gi-Oh! Exploring the Stainless Steel Card
Episode one of Yu-Gi-Oh! ('Heart of the Cards') introduces Blue Eyes White Dragon, a card that fascinates everyone who encounters it: beautiful, rare and valuable. It's a stunningly accurate description for what every collector feels when they've unearthed something of note  – and what people are capable of to obtain it.
It sets the scene for the rest of the show, and it certainly set the tone for a great deal of my childhood parked in front of a small television watching duelists battling it out in black-and-white. (Afterwards, of course, I'd fire up the PC for Kaiba: The Revenge.)
Having recently re-discovered Yu-Gi-Oh! the show, through Dueling Nexus and binge-watching, I heard about a particularly valuable Yu-Gi-Oh! Card: printed on stainless steel, and very special issue. Here's what I found looking into the special issue Black Luster Solider issued in 1999 for the big winner of the first-ever Yu-Gi-Oh! tournament.
Big News – and Bigger Money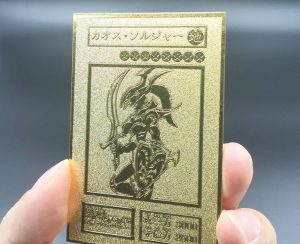 The first "big report" about the Black Luster Soldier came from Kotaku.com in an article written by Brian Ashcraft in 2013. Of course, it was hugely big news in 1999, too, but when the card was put up for auction again it made trading card collectors everywhere jump, cringe and wonder.
According to the Kotaku piece, when it went up for sale it was listed on CardCollectors.jp for an incredible $10 million.
This made it one of the most expensive listings in trading card history. Enough to entice Ghost Kaiba to pop his head out of the grave, we'd bet.
Tournaments
One reason why this stainless steel Black Luster Soldier is so highly valued is because of the reason it was originally issued: as the first prize for the first-ever Duel Monsters tournament in 1999 (Ginza, Tokyo).
Second place received, third place received Super War-Lion, and fourth place received Fiend's Mirror – all of which only saw one of its kind.
The second tournament took place in August, with Blue Eyes Ultimate Dragon as the first prize.
Owning any of these stainless steel printed cards is much like the first rare card Yu-Gi ever sees – and owning it yourself is owning a piece of trading card history.
Another Card? Blue Eyes Ultimate Dragon
The next time any stainless steel Yu-Gi-Oh! Card makes such an uproar is when an article for The Verge by Dani Deahl (January, 2018) mentions none other than the second tournament prize: Blue Eyes Ultimate Dragon. This time, the retailer is listed as Card Shop Spiral located in Chiyoda, Tokyo – and the price is approximately $400, 000.
Buying? Remember This
If you're buying a card as rare as this, keep in mind that there are plenty of fakes on the market. If you end up with a fake, Blue Eyes Ultimate Dragon might just turn into Puff the magic one when played on the field.
As the saying goes, extraordinary claims require extraordinary proof – and if you're buying, look out for a certificate of authenticity (and well, actually have it authenticated before you fork out any money).