Machi Koro: The Perfect Game to Kick-off a regular Family Games Night
by Yvonne Hanson © 2018 Gifts for Card Players
For parents looking for entertaining ways to engage with young children or searching for opportunities to connect with older children, a family games night may be enticing. Sitting around the kitchen table as a family with each person giving their undivided attention to the same activity can be a healthy way to build familial bonds and strengthen relationships, while also providing an opportunity for children develop their ability to think strategically and follow through with plans to achieve predetermined goals.
Yes these benefits sound great, but if you've never sat down to enjoy a family games night before, it can be difficult to get the tradition started. Classic family games like Uno, Monopoly, Pictionary, and Go-Fish aren't exactly exciting for parents who have played them hundreds of times.
Niche and Indie games offer new, interesting, and innovative play-styles, but the hundreds and hundreds of unique games in small, colourful boxes can be difficult to choose between when you're pulling blindly from a wall of them at the local Game store. If your children are far apart in age, you have to guess about which games will be appropriate and entertaining for everyone, considering things like length, number of players, reading level, and the time it will take to learn the rules. Failure to find an appropriate game to kick start the night can turn family members off the idea of playing new games together at all, and can cause people to become frustrated with each other instead of the game.
To avoid game-store confusion and mid-game stress, we're going to be running a series of blog posts reviewing and talking about card and board games. And we've got a really fun game to get things going.
Machi Koro
The base Machi Koro game accommodates 2-4 players, and the expanded version allows 2-5. The square, blue game box displays a colourful image of a town and contains two dice, a deck of cards, and a set of cardboard coins. The cards are colour coded with simple pictures to help distinguish them and a single sentence of text to explain how they function. The different card types represent different establishments, and the theme of the game is to build a little town by acquiring these cards.
The turn-by-turn gameplay of Machi-Koro is wonderfully simple: a player starts their turn by rolling the dice. If the dice total corresponds to the number at the top of a card, then they are rewarded with the number of coins specified by the card's text. If the dice matches the number on a player's blue card, that player receives coins during that turn, regardless of who rolled the dice. Green cards only give coins to the person who rolled the dice, and red cards allow you to take coins from the person whose roll activate them. Finally, purple cards allow the player who rolled the dice to take coins from other players under certain conditions.
Everyone starts with basic blue and green cards which usually generate enough income to buy new cards by the second or third round of turns. Coins can be used to buy one new establishment per turn, or saved up to buy one of the four special establishments needed to win the game.
The rules are short and sweet and easy to explain to younger players. The amount of reading required is minimal, and new players can quickly catch up to experienced players without being unfairly disadvantaged by their lack of experience. Older players can delve further into the game's strategic potential, while younger players can enjoy the satisfaction of building their town and receiving coins from their chosen establishments every turn.
Though the game is competitive, the activity of each turn is focused on building and planning your own position. The gameplay feels more like a process of development than a race to the finish, and it is possible to feel good about how you played, even if you didn't win. Strategizing makes the game more engaging and can certainly pay off, but rolling dice each turn creates an element of chance that enables 'beginners luck' to net an occasional victory.
Put simply, Machi Koro is an easy-to-learn, simple-to-play game that has something to offer dedicated strategists and casual youngsters alike. It takes around 10-15 minutes of playing to develop a comfortable understanding of the mechanics, and the average round will last about half an hour once everyone is familiar with the rules. Machi Koro is recommended for children ages 10+, but the simple rules would likely be accessible to younger children learning to play in a casual family environment.
Sitting down for your first family games night can be intimidating, but there's no better way to kick off a games night tradition than by working together to learn the rules to this quick, straightforward, and inclusive card game.
Fun facts:
Machi Koro literally translated from Japanese means 'dice town' which pretty much describes the play.
Wikipedia tells us:
Machi Koro  is a tabletop city-building game designed by Masao Suganuma, illustrated by Noboru Hotta, and published in 2012 by the Japanese games company Grounding Inc. Machi Koro won the 2015 Geekie Award  for Best Tabletop Game, and was a Spiel des Jahres and As d'Or – Jeu de l'Année nominee that year; it was a Le Lys Grand Public finalist in 2014. It has been published in Czech, Dutch, English, French, German, Greek, Italian, Korean, Russian, Spanish, and Turkish. The U.S. version is published by IDW Games and Pandasaurus Games.
Purchase online at Amazon:
Regular Box Edition is $17.47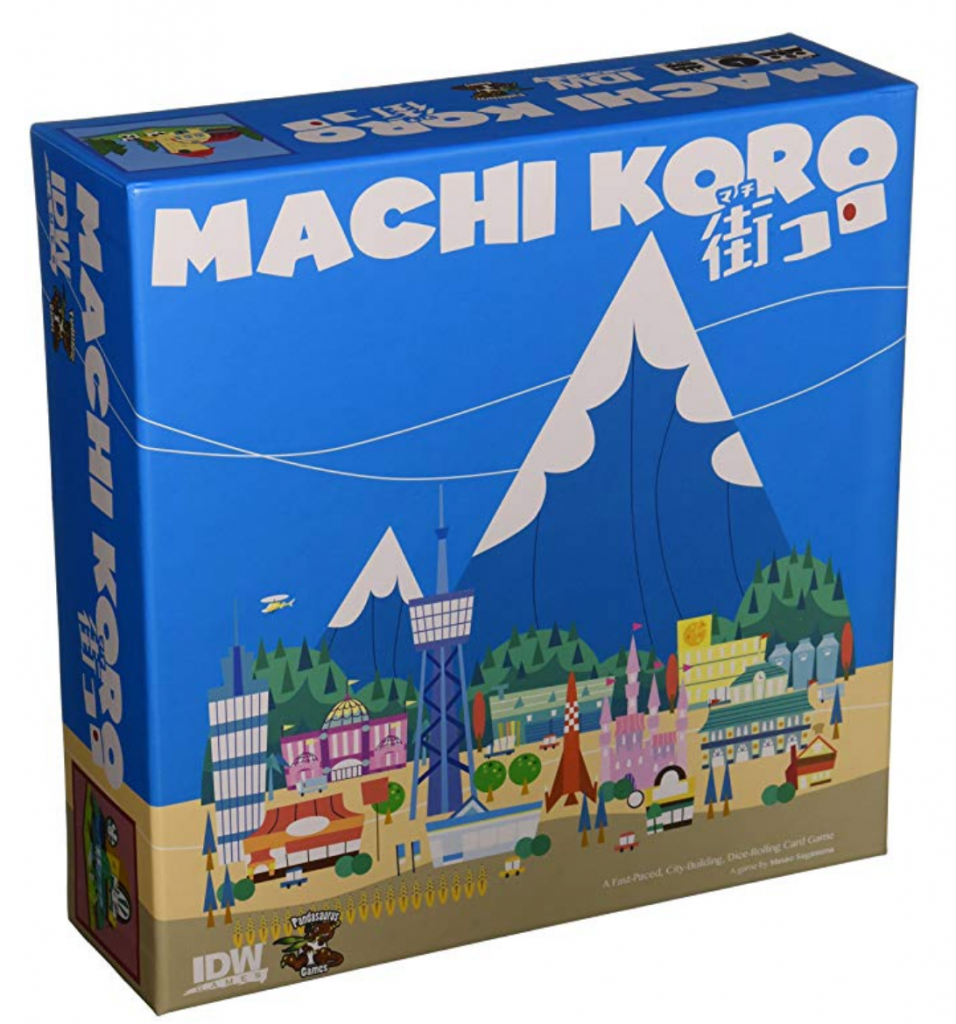 Deluxe Edition is $49.95