Wasabi: The Competition Game That Makes You Hungry
Test your sushi-making skills in a lightning fast game of Wasabi with up to 3 friends and I'll bet it'll make you hungry. Players have a variety of cards filled with delicious ingredients from the pantry that they have to use to build unique sushi recipes on the board. Competition definitely heats up when players learn how to build off their opponent's ingredient cards to receive more special perks from the kitchen.
Completing a recipe gives you scoring tokens and special perks such as the Chop, Stack, Switch, Spicy or Wasabi cards. These cards will help you build more intricate recipes effectively and disrupt your opponents' creations while they're in the progress of building them.
The Chop card allows players to remove one ingredient from the board and place it back in the pantry, whereas the Spicy card gives you an even larger advantage by letting you place two ingredients on the board.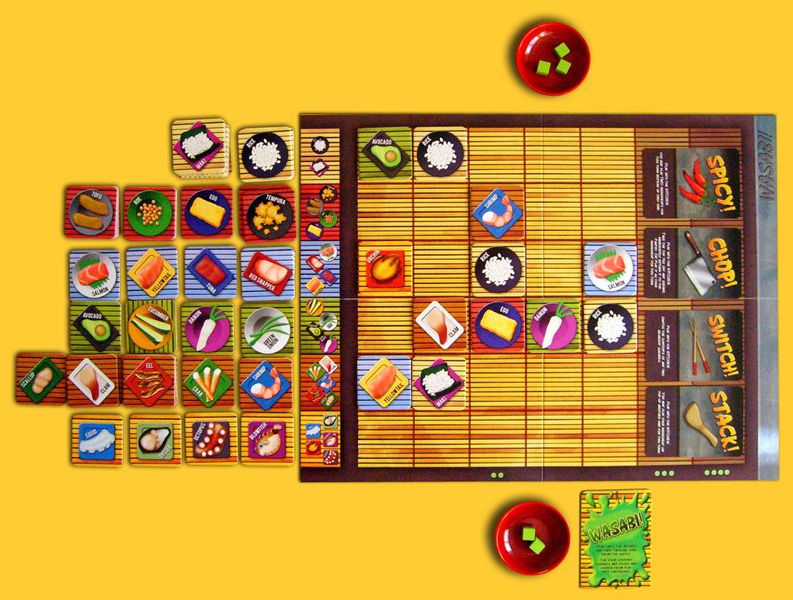 The Switch card lets players switch any two adjacent ingredients tiles and Stack allows you to stack another tile on top of the existing ones you've placed to form a recipe. The all-powerful Wasabi card clears ingredients from a 2×2 area of the board, allowing you to have the more room to plan your recipes on the board. Each card gives you an advantage, but you still have to be strategic on how and when you use them. Winning the game is about balancing tactics with speed and being quick on your feet regarding building stylish maneuvers. You can't rely on stocking up on the easiest recipes and you also can't wait to build up monster recipes all the time, either.
Each time I play the game, I keep the tiles organized by type, making it easier to look at the recipe cards and build each recipe, rather than scrambling around for the right tiles. I also make mental notes on the cards my opponents put on the board and plan accordingly due to the tiles I have in my possession. When it comes to playing a special bonus perk, I find I've had more success when I use the Chop and Spicy cards as my bonus moves, rather than expending energy to build more intricate recipes in order to use the Wasabi card. Every time I've tried to build larger recipes to take up more space on the board in order to unlock the Wasabi perk, my opponent beats me to the punch.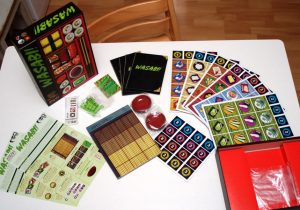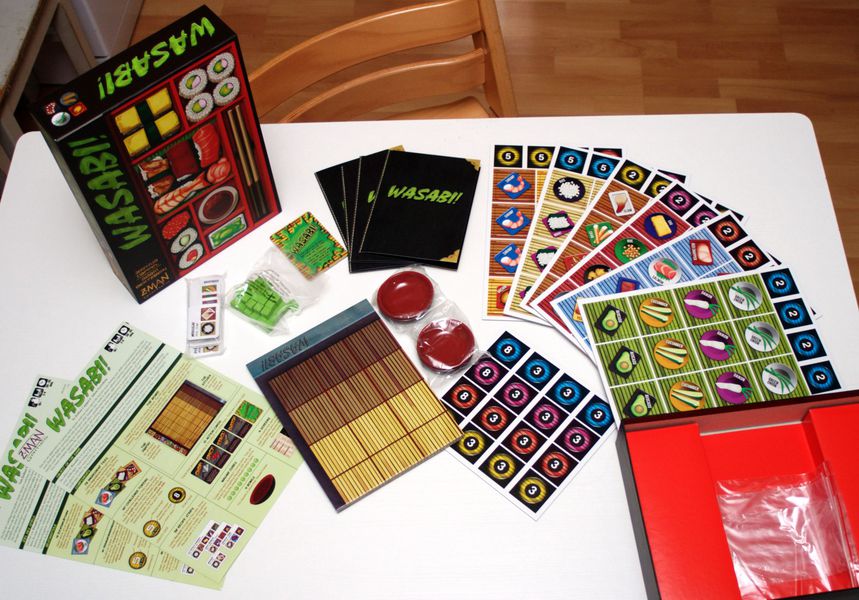 But there's an added wrinkle to challenge players: You can only complete a recipe if you have a scoring token of the same length. So what that means is, if you try to complete a recipe with 5 ingredients but you don't have a 5-length scoring token, the recipe can't be completed and you lose that valuable space on the board to your opponent.
So how do you win? There are two ways: either you use all of your recipe scoring tokens or you earn the most points after the entire board is filled and the completed recipes and bonus wasabi cubes are added up.
This game is definitively more competitive with four players as the board is constantly changing, making it harder to come up with and keep, a strategy. Instead, you have to formulate tactics for the next turn, sometimes being forced to change them on the fly.
If you love a challenge based on speed and tactics; full of new, colorful possibilities each time you play, I definitely recommend picking up Wasabi through Amazon or at your local board game shop!
Note: though it is possible to find copies, this game has been out of print for some time. Be sure to check in with the publisher for updates on when it will be reprinted.
Click image to be taken to Amazon.