Decks in the Halls
We're not sure if that's what the classic song meant with "deck the halls", but another card deck always makes for a great gift around Christmas. Another year is coming to a close, and what better to end the year on than an article about some great Christmas-themed card decks to make for a great just-before-Christmas gift.
Of course, most of these card decks are great to use throughout the year. The Santa suit you're keeping in the closet is considered optional for wearing while you play the game.
Here are the coolest card decks you can get this Christmas. Click the images to teleport to the shopping page where you can find the product.
The Rudolph Reindeer Playing Card Deck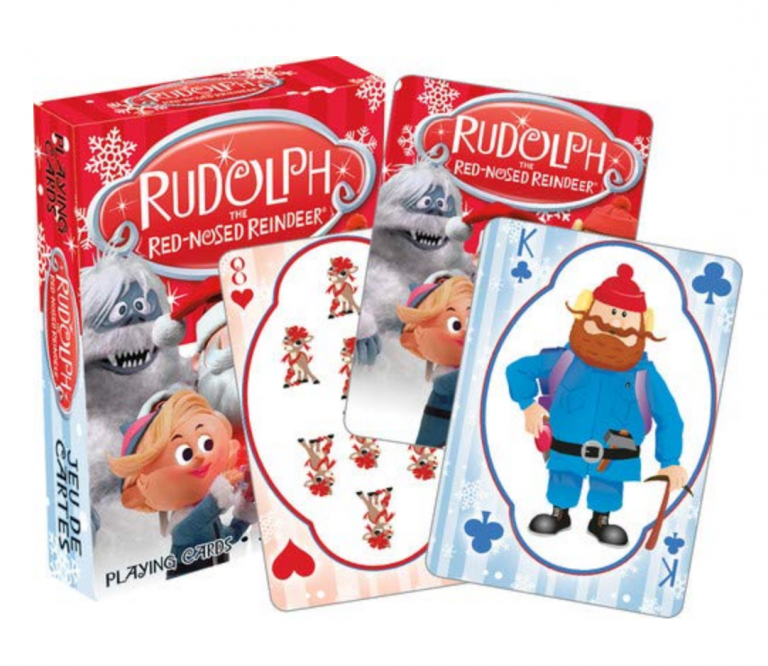 When it's time for Christmas, there's nothing quite cuter than Rudolph – and this is one of the coolest ways to introduce especially small children (or well, fun adults) to playing cards for the first time. The cartoons are cute enough to make this one worth getting as a great stocking stuffer for kids around this time of year.
Jumbo Print Santa Cards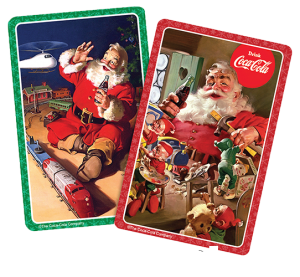 These  Santa's Workshop playing cards from Baron Barclay Bridge Supplies feature Santa himself! Players appreciate the custom artwork and quality of these designer playing cards. Each set includes two decks of similar themes. Santa always has the best presents, include this in a stocking this holiday season!
The 12 Decks of Christmas
The 12 Decks of Christmas is the Ellusionist's version of an interesting packaged-deal of 12 different card decks in one set that can make a great gift for yourself – or anyone else. The set contains King Slayers (Blue, Red, Teal and Black), Super Bees and the Little Deck of Horrors among others – of course, none of these decks have anything to do with the theme of Christmas, except maybe for the fact that it's a really great gift.
Krampus Playing Card Deck
The Krampus playing card deck designed by Monte Beauchamp is just about one of the creepiest card decks you'll have seen all year, but it's also one of the coolest – it's designed around the creepy Christmastime legend of the Krampus, which is honestly terrifying and not for children at all (but surprisingly in some parts of the world, is – and children aren't generally horrified to the teeth for some reason).
Still it's a really cool deck for a friend who likes creepy decks, especially with a copy of Krampus, the movie starring Adam Scott from Parks & Recreation.
A Christmas Carol Deck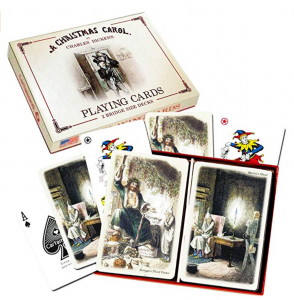 A Christmas Carol deck is what you get when the classic holiday story meets a card deck, and if you want something that's really cool, original and Christmas-themed without going completely over the top – and again, the artwork for this book is spectacular.
A Christmas Tarot
What if you're looking for a tarot deck instead? Well, it's out there.
You might have wondered what happens if you combine A Christmas Carol and a tarot deck, and here's your answer. This actually looks like a great deck to own if you regularly do tarot readings for yourself or others, and the artwork is incredible – fitting even for times that aren't Christmas.
The Coca-Cola Santa Claus Deck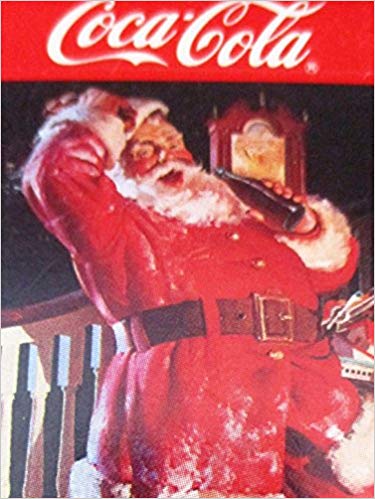 For collectors of limited edition or vintage decks, this one makes a great gift – although you might have to dig a little harder through Amazon listings to find it.
The Santa Claus-themed Coca Cola decks were released through different years, and not all are as rare as others – but we'd go as far as to say that all of these made for excellent card decks.
Christmas-Themed Go Fish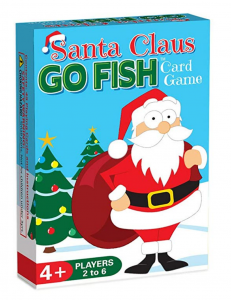 Go Fish is a classic card game, and it's a great distraction if you know you'll have a bunch of kids around Christmas asking you when the food's going to be ready; this one is enough to keep them busy, and it's even fun for the rest of the party once the kids have gone to sleep.